Broken Hill, NSW, Australia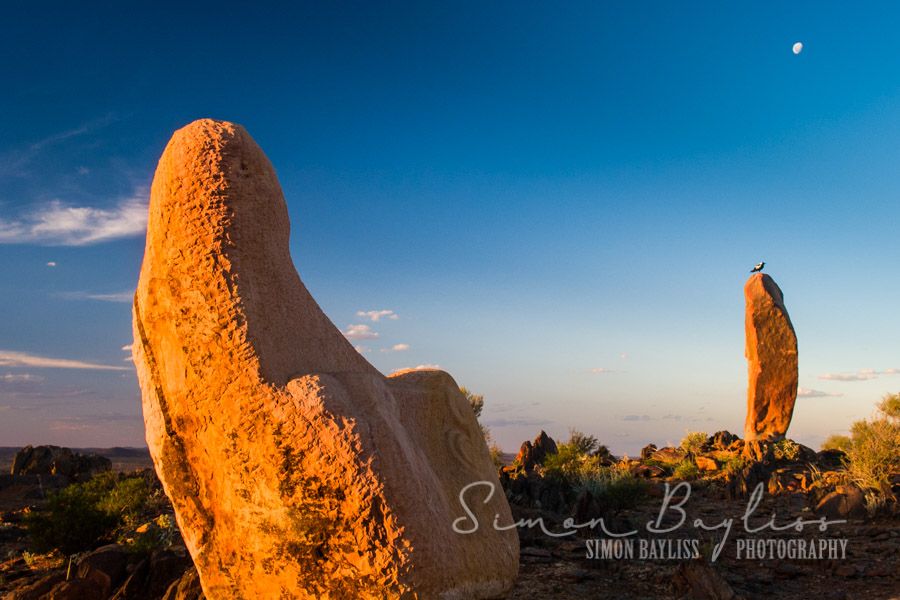 Broken Hill is a true icon of Outback Australia, sitting on an iron-rich red landscape under a big Azure sky... remarkable colours and contrasts that are synonymous with Australia's Corner Country (and area radiating out from Cameron Corner, the place where the states of NSW, QLD, and SA meet).
Broken Hill, its name conjures up so much that we identify with Australia. Henry Lawson once stated "if you know Bourke, you know Australia", an adage that could apply equally to Broken Hill as it does to Bourke (but with a slightly more modern context). While Bourke grew out of the river trade, Broken Hill grew out of mining and iron and is where the Big Australian (BHP) was born.
The icon, and Heritage Listed, Broken Hill has a BIG history with wonderful attractions and unique experiences.
Broken Hill (also known as 'The Silver City'), is one destination that should be on any travel list. Not only is Broken Hill a beautiful town with wonderful architecture (and of course people), but also provides the perfect base for exploring some of the best attractions in this region of Australia.
While over an hour from Menindee and the Darling River, Broken Hill is a must-see destination while travelling the Darling River Run as well as up to the Corner Country towns like Milparinka, Tibooburra, across to Cameron Corner.
Where is Broken Hill Located?
Where is Broken Hill Located?
Broken Hill (31.9539° S, 141.4539° E) is located in the west of New South Wales near the South Australian border, surrounded by what is known as the Unincorporated Far West Region (it is not part of any NSW local government area).
Broken Hill is located on the eastern flank of the Main Barrier Range at the crossroads of the Barrier Highway (the east-west route from Nyngan to the SA border) and the Silvercity (the north-south route joining Buronga/Wentworth in the south to Wari Gate north of Tibooburra on the NSW/QLD border).
It is a major transport hub that is serviced by the major bus, rail and air links.
As the crow flies, Broken Hill is :
420km from Adelaide
710 km from Melbourne
935 km from Sydney
1,220 km from Brisbane
100 km from the Darling River (Menindee and Menindee Lakes
335 km from Cameron Corner
Driving to Broken Broken Hill
Driving to Broken Broken Hill
Driving to Broken Hill from any of the major east coast capitals can be thought of as a long drive (Adelaide is very lucky to be in such close proximity to the Silver City), but there are wonderful touring adventures along the 'road less travelled' to really make visiting Broken Hill a real outback experience.
The history of Broken Hill
The history of Broken Hill
In 1883, Charles Rasp, a boundary rider on Mount Gipps Station (1+ million acres), discovered a mineral outcrop exposed by erosion. Suspecting the mineral was tin, Rasp and some of his follow station workers formed the 'Syndicate of Seven' consortium and staked their claim. It was later that it was revealed as the world's most significant lead-silver-zinc ore deposit.
Forty-odd years earlier, explorer Charles Sturt passed through the area in 1844 on his expedition to the interior of Australia, and crossed the Barrier Ranges at a section that he noted in his diary as the Broken Hill. The actual hills that Sturt saw and crossed were actually several hills that appeared to have breaks in them. The broken hill has been mined away and no longer exists.
The extent of the boom that mining brought to Broken Hill is evident in the grand buildings along Argent Street, Broken Hill wide main thoroughfare as well as its most prominent feature, the giant mullock heap that runs parallel to the main street. The mullock heap is the result of a century of digging the mines; quite remarkable when you ponder that it all came from underneath the town.
Today the city sits on one of the world's largest known silver-lead-zinc lodes; a deposit that is 7 km long and over 220 metres wide.
Over the years it has become the state's premier desert centre known for its outstanding Outback artists, rich indigenous culture, unique Living Desert Reserve with the amazing Sculpture Symposium, and its easy access to a rich diversity of desert landscapes.
Broken Hill See and Do:
Broken Hill See and Do:
There are many significant Broken Hill attractions, and two 'must-see' ones are the Living Desert and The Sculpture Symposium. Nestled neatly among the red hills of the Barrier Ranges is the Living Desert, a 2,400-hectare reserve about ten kilometres from the city centre, complete with several breath-taking walking trails. Within this reserve is an amazing Flora and Fauna Sanctuary.
The surreal Sculpture Symposium, located on Sundown Hill in the centre of the Living Desert Sanctuary, is made up of a collection of twelve commissioned Sandstone Sculptures completed by local and international sculptors. It is a fantastic experience any time of the day but especially poignant at sunset.
No visit to Broken Hill is complete without a visit to the Pro Hart Gallery. Pro Hart is one of Broken Hill's favourite sons, and his famous painted Rolls Royce is also at the gallery.
Broken Hill Visitor Information:
Broken Hill Visitor Information:
Broken Hill See & Do:

Royal Flying Doctor Service - Visitors' Centre
Living Desert / Sculpture Symposium
Silverton
Bell's Milk Bar
Miner's Memorial / Line O Lode
Historic Daydream Mine

Getting to Broken Hill (Car):

From Brisbane: 1,540km
From Sydney: 1,150km
From Melbourne: 840km
From Adelaide: 515km

Broken Hill Visitor Information Centre:

Cnr Blende and Bromide Street, Broken Hill NSW 2880.
Telephone: 08 8080 3560
---
---
---